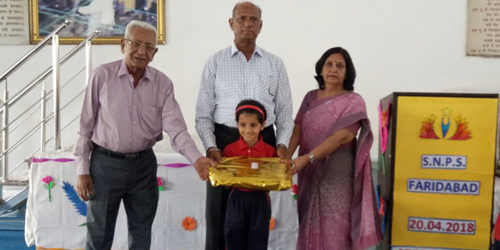 ACHIEVERS DAY CEREMONY
"THE KEY TO REALIZING A DREAM IS TO FOCUS NOT ON SUCCESS BUT SIGNIFICANCE AND THEN EVEN THE SMALL STEPS AND LITTLE VICTORIES ALONG YOUR PATH WILL TAKE ON GREATER MEANING"
For attaining landmark success, it is vital to separate yourself from those who obstruct your vision. Make a choice to walk away from the trap set to catch you. Separate yourself from others and the result of your action will be a life of series of success. Same was proved by all the dedicated students who left no stone unturned to carve a niche for themselves in the academics throughout the session while they were given warm welcome on the morning of Friday 20th April 2018. The day echoed with sounds of claps and applause was the celebration day for the Co-Scholastic Achievers of Sant Nirankari Public School, Faridabad who have been successful in creating milestones for others. The students who took the challenge and dared to face that challenge and who emerged out as winners were awarded with prizes by ever inspiring Manager Mr. N.S. Chauhan , Member Mr. S.P. Malhotra , our Principal Ms. Sunita Kharbanda and Head  Mistress Ms. Mamta Arora. Later, Mr. N.S. Chauhan added charm to the celebration with his highly motivational words. In his message, he mentioned that the will to win, the desire to succeed, the urge to reach your full potential etc. are the keys that will unlock the door to personal excellence.
Result for Achievers are as follows:
S.N.
CLASS
RANK
 
 
Ist
IInd
IIIrd
1
I
Pawni(99.4%)
Ananya(98.2%)
Angel(98%)
2
II
Gurleen(95%)
Sagar(94%)
Nandini (93%),                        Lavi Shukla(93%)
3
III
Sakshi Saxena(90.8%)
Prachi Swain(89.6%)
Devesh (89.2%), Deepanshi(89.2),  Rehan(89.2%)
4
IV
Mayank(93%)
Deeanshi(89.4%)
Yash(89%)
5
V
Kripa Gera(93%)
Alisha Wadhwa(92.8%)
Daksh(92.5%)
6
VI
Himanshi Dixit(90.5%)
Ritik Yadav(90.3%)
Namit Kaushik(88.2%)
7
VII
Aayushi Singh(97.1%)
Nitesh Prajapati(89.8%)
Muskan Saini(86.7%)
8
VIII
Navya(85.6%)
Supriya(85.2%)
Rishabh(84.3%)
9
IX
Vineet(91%)
Harsh(88.8%)
Akash(86.2%)
10
XI
Shweta(85.9%)
Ayushi(85.8%)
Jagriti(84.3%)
HEARTIEST CONGRATULATIONS TO ALL THE ACHIEVERS!!!
KEEP THE WHEEL OF SUCCESS ROLLING!!!