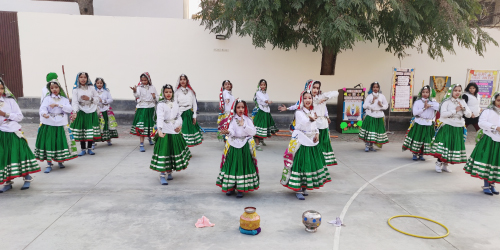 Basant Panchami Celebration
"Basant Panchami" is an occasion which marks the advent of the spring season and is also celebrated to worship Saraswati, the Goddess of knowledge and wisdom. Sant Nirankari Public School, Sector-16 A, Faridabad celebrated the day on 30TH January 2020 with great fervour and enthusiasm in the morning assembly.
The program commenced with a floral tribute to Goddess Saraswati by Principal, Ms. Sunita Kharbanda. The cultural items were initiated with the 'Saraswati Vandana' sung by the students of class VI. Ms. Reema, Sanskrit teacher described the importance of this day through a brief speech. Namashavi of class IX C also gave a speech in honour of Goddess Saraswati. A poem was recited by Devam of class IX A followed by a group song sung by the students from class VI to VIII. A folk-dance was performed by the students from class VI to XI. The program was applauded by one and all.
Various cultural activities took place to give importance to this day. NAMASHAVI, a student of Class IX C of Pragati House highlighted the importance of the day through a brief speech.
"Literacy is the best remedy" which is necessary tool to eradicate poverty, lowering the infant mortality rate, controlling the population growth, attaining the gender equality etc.
The concept of Literacy was defined to the students more elaborately by another teacher, Ms. Durgesh of Pragati House through a story telling session. A student of Class V also gave a speech on the importance of Literacy Day. Students were also encouraged to donate their  valuable old books so that it can be used by the needy ones. A Literacy Box was kept in the school library for this purpose. The students were encouraged to celebrate this day and educated about the significance of literacy.