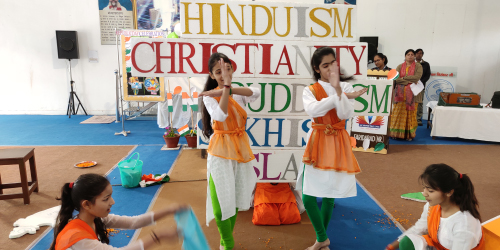 Celebration of 71st Republic Day
The 71st Republic Day was celebrated in all its solemnitay and grandeur at Sant Nirankari Public School, Sector-16 A, Faridabad on 25th January 2020. The occasion was graced by Chairman Mr. V.K. Arora, Manager Mr. N.S. Chauhan, Members of L.M.C. Mr. Pawan Dabar, Ms. Prabha Malhotra & Mr. S.P. Malhotra, Principal Ms. Sunita Kharbanda and Headmistress Ms. Mamta Arora. The event commenced with the hoisting of the National Flag by Chairman Mr. V.K. Arora and singing of the National Anthem by a group of students.
Mr. Deepak Arora, school alumni, who is presently doing his own practice as C.A. and earlier worked with a reputed MNC E&Y was also invited to attend the event. He shared his journey to success with the students and motivated them to combine their skills with hard work to achieve their goals.
The programme was initiated with a shabad from Avtar Bani soulfully sung by the choir group. The entire school courtyard reverberated with the rhythmic beats of " Ai watan mere watan" followed by a beautiful folk dance presented by junior section. Patriotic poems were recited in both English and Hindi language by the students of middle wing. The students brought the stage alive with their passion and love of the motherland through their speech. A combination of dance and skit was presented by the students of senior wing on "Unity in Diversity". The melodious music and graceful movements of the dancers were spellbinding.
The programme concluded with very inspiring speech given by the Manager of the School, Mr. N.S. Chauhan in which he highlighted the importance of the Constitution and its unique features such as Sovereign, Socialist, Secular, Democratic and Republic enshrined in the preamble of the constitution.
In a nut shell, it was an event with memories worth cherishing.