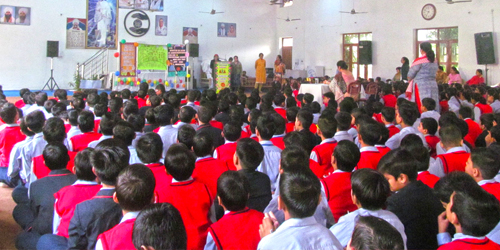 Children's Day
Golden words by Pt. Jawahar Lal Nehru…..
 "The children of today will make the INDIA of tomorrow. The way we bring them up will determine the future of the country."
India celebrates children's day on 14th Nov. Every year on the occasion of Nehru Ji's birthday. He had a clear vision of what modern India should look like, for the wellbeing of children, for the education of children, for a better future of children. Children's day is always celebrated with full zeal and enthusiasm. Our school also organised a special assembly for students on the special occasion of children's day.
A blooming bud Aman Preet of class 5 anchored the show. She put some light on the life of Chacha Nehru and also his love for children.
This was followed by a prayer song performed by a group of students of class 5 which was full of enthusiasm. After this Kamna of class 5 recited a poem on our beloved Nehru ji.
This was followed by a musical play "The Pied Piper of Hamelin" which was performed beautifully by students of class 3 and 4. Through this play, they taught the moral lesson of not to betray your promise. One should always keep his words, otherwise he has to pay something really big. They also reiterated the message of Nehru ji that children are the future of nation and are most precious for parents.
With the proceeding of the program, Palak of class 5 recited a poem. This was followed by a speech delivered by Alisha on children's day. This was a very encouraging speech.
Next was an action performance. Young kids of class 3 and 4 gave a wonderful dance performance.
With these performances, the special assembly on children's day came to an end with a thought, an idea, a vision in mind that children are the future of nation. Nurture them, nourish them and make them a wonderful human being.