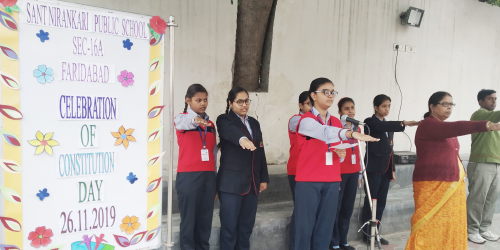 Constitution Day or Samvidhan Divas
Constitution Day or Samvidhan Divas was celebrated in Sant Nirankari Public School, Sector-16 A, Faridabad on 26th of November to commemorate the adoption of the Constitution of India. On 26th November 1949, the Constituent Assembly of India adopted the Constitution of India, and it came into effect on 26th January 1950.
The Government of India declared 26th November as Constitution Day on 19th November 2015 by a gazette notification. The Prime Minister of India Sh. Narendra Modi made the declaration on 11th October 2015 while laying the foundation stone of the B. R. Ambedkar's Statue of Equality memorial in Mumbai.
On 26th November 2019, all the students and teachers took pledge & read the Preamble to the Constitution in English and Hindi at 11:00 AM. Students paid tribute to the architect  of Indian Constitution, Dr. Bhimrao Ramji Ambedkar.