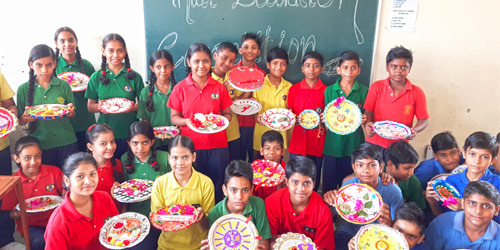 Creating a bond of love: Rakhi Making, Thali Decoration and Singing Competition
4th August 2017
It was day when celebration of love between brothers and sisters began, and making the best 'knot of protection' was the only plan.
The auspicious day of Raksha Bandhan was celebrated at Sant Nirankari Public School, Faridabad by organizing a Rakhi making competition for classes I to V, Thali decoration competition for classes VI to VII and solo singing competition for classes IX to XII. All the children participated with great zeal and zest in all the three competitions. The competition for Rakhi making and Thali decoration was judged by Ms Parineeta.
The designs were so creative and fascinating that is was very difficult to come out with a single winners' list. Yet for the final assessment the result is as follows:
RESULT FOR RAKHI MAKING COMPETITION
Anukampa- I C
Prtigya- II B
Rehan- III C
Varun Solanki- IV B
Nandini- V B
RESULT FOR THALI DECORATION COMPETITION
Prince Sharma- VI B
Rimjhim- VII B
Geeta Pandey- VIII A
And it's the time for the winners of Solo singing competition which was judged by Ms Poonam Rathi and Ms Pinko Dey. The competition was very tough and all the participants were very good. But at the end of any competition there can be a one winner only. So, here is the list of the winners of solo singing competition which was held house wise.
RESULT FOR SOLO SINGING COMPETITION
Dilpreet – Class XI (Preet House)
Lakshita- Class IX (Pragati House)
Simran- Class XI (Prerna House)