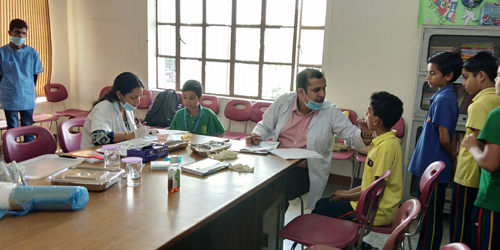 Dental Check-up and Awareness Camp
Sant Nirankari Public School in association with Respidentz Dental & Chest Clinic organized a free dental check-up and awareness camp in the school premises on 28 & 29th September 2018. A team of specialist Dental Surgeons and para-medical staff under the guidance of Dr. Nishtha Gupta and Dr. Vipin Gupta carried out a comprehensive dental check-up of students of classes IV-VIII.
Through the camp the students were informed about common dental ailments especially tooth decay and gum diseases as well as measures to prevent them. The students were told about properly brushing techniques, the eating pattern and food choices which cause tooth decay. On completion of the dental check-up each student was given a Patient Card, a report summary of the diagnosed problem and the recommended dental treatment plan.
The School Management & Principal thanked the dental staff for rendering moral and selfless service to the school.