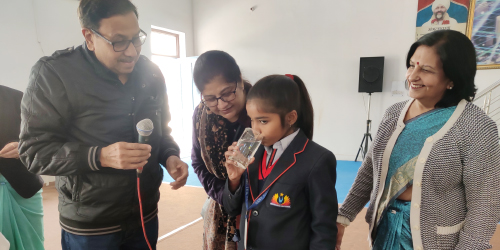 Deworming Day
Deworming Day was held in Sant Nirankari Public school, Sector-16 A, Faridabad on the occasion of National Deworming Day in India on 10 February, 2020. It is an initiative of Ministry of Health and Family Welfare, Government of India to make every child in the country worm free. The worms mainly spreads from the faeces of people who defecate in open.
The event was presided by Ms.Narender Kaur (Deputy Civil Surgeon-School Health), Ms. Anukram Bhati (Counselor), Mr Rajender Singh (District Co-ordinator, Faridabad), Senior pediatrician Dr. Subhash Jain. Principal, Mrs Sunita Kharbanda welcomed the guests and thanked them for the successful commencement of the event.
The program aims to improve the health and well-being of pre-school and school children by reducing the Soil Transmitted Helminths (STH) infections through mass Deworming and other preventive measures.
In the end, Dr Subhash Jain gave a brief speech about the importance of this program. He thanked the school authorities for their co-operation for the distribution of tablets amongst the students.