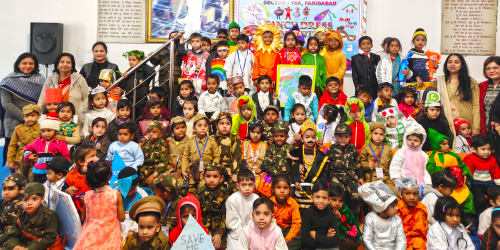 Fancy Dress Competition at S.N. Pre School, Faridabad
Aiming to combine learning with fun and to develop confidence in the little ones by giving them opportunity to get on the stage and speak in front of an audience S.N.Pre always organizes various competitions like poem recitation, colouring, card making etc. as we believe that each child is blessed with talents which are unique, and to bring out these hidden talents Fancy Dress Competition was held for S.N. Pre students on 30th January 2020.
Mrs. Sunita Kharbanda, the Principal of the school and Mrs. Mamta Arora the Headmistress of the school also graced the occasion.
Students came up with interesting topic save girl child, save water, save tree, ill effects of mobile phones, oxygen degenarater, stop polythene usage etc. It was the most awaited event of the year.  It was a feast to the eyes to watch the little ones performing with such enthusiasm and confidence, "Kudos to our little champs".
Mrs. Sunita Kharbanda, (Principal) ended the show with her inspiring speech. She encouraged the students with her words of appreciation for them. She also distributed prizes to the winners. The competition proved to be a great learning experience for the students and gave them a platform to explore their hidden talents.
The winner of the competition were:
| | | | |
| --- | --- | --- | --- |
|  Sr. No. | Name of the Student | Class | Position |
| 1 | Himani | Nursery | I |
| 2 | TarishKhan/ Manya | Nursery | II |
| 3 | Aarav/ Sanskriti | L.K.G. | I |
| 4 | Kavya | L.K.G. | II |
| 5 | Nitya | L.K.G. | III |
| 5 | Devesh | U.K.G. | I |
| 6 | Kaveri | U.K.G. | II |
| 7. | Dimpi / Tejasvani | U.K.G. | III |