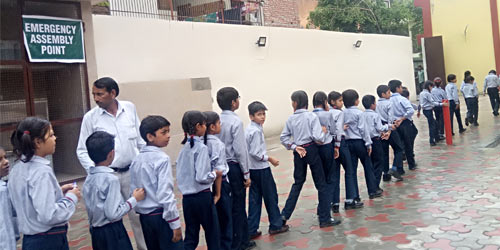 Fire Mock Drill
The mock drill was conducted in the school on July 28, 2018. It was an attempt to guide and train the teachers, staff members and students to deal with any emergency and disaster.
All the students, teachers' staff members participated in it. As soon as the fire alarm rang, both the junior and senior wing buildings were evacuated. All the students, teachers and staff members gathered in the ground. The drill lasted for 2 minutes and 49 seconds. Mr. Suresh from fire department instructed the children to walk fast but not run while evacuating the building. He further said that the maids and teachers should check that the floor is evacuated before coming to the assembly point.
After the drill Mr. Suresh took a session with the teachers. He demonstrated the method to be taken at home, in kitchen and while driving a car. He answered to the queries of teachers. He also suggested to refill all old fire extinguishers from September onwards. Good planning, Regular mock drill and effective strategies help in disaster management.
Resource Persons: Mr. Suresh and Mr. Satish from Fire Department
Members Present:  Head Mistress, Teachers, Students, Housekeeping and Security Staff.