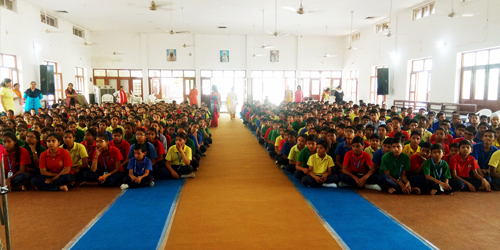 Fire Safety Session
Safety is an integral part of our personal and professional lives .In our effort to adhere to safety guidelines laid by the concerned departments, we at Sant Nirankari Public School, Sec-16 A, Faridabad conducted a Fire safety Mock Drill on July 6, 2018. All the students were asked to gather in school auditorium and the session was proceeded by Mr. Govardhan Saurav, an Ambassador from Fire Brigade Faridabad. Few of the major highlights from his guidance are as below:
Guided the students on how to save themselves in case of an emergency
How to use fire extinguishers
Description about five categories of fire and how to extinguish them
After this session, all the students went back to their classes and were asked to vacate after the fire alarm. 3 fire exits were identified which all lead to the safe assembly point and students were guided to use their nearest exit point to reach the safe assembly point. Time to vacate the building was calculated and was recorded 3 minutes, which was reasonably a good time.
Post this activity all the students were sent back to their classes and the overall drill was considered successful.