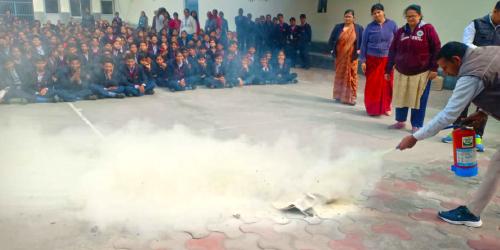 First Aid Training and Mock Drill for Disaster Management
Through various safeguards and campaigns, Sant Nirankari Public School, Sector-16 A, Faridabad strives to make its students and staff aware and up-to-date. Keeping this in mind, a workshop was organized on 22nd February 2020 in the school campus. The trainers from St. John Ambulance Asst. Commissioner  from St. John Ambulance Asst. Commissioner Mr. Inderjit Singh and Mr. Naresh Kumar physical training instructor from Civil Defence and Home guard shared simple and easy steps to follow safety tips, explained the functioning of a fire extinguisher and spoke of the DOs and DON'Ts regarding possibilities of fire. Some teachers and students were even called on to operate the fire-extinguishers independently. He also spoke on the need to watch out for warning signs and practice safeguards to prevent occurrence of incidents that may range from inconvenient to life-threatening. Some first-aid tips and demonstrations were also given. The session proved to be informative and an imperative lesson on life-saving skills. School Disaster Management Teams like 'Awareness Generation Team, Warning and Information Dissemination Team, Search and Rescue Team, First aid team, Fire Safety Team, Crowd Management Team, Floor wise Evacuation Team' are formed.
As soon as the alarm hooter rang out loud and clear, the students were immediately escorted by their subject teachers to the Emergency Assembly Point. Once all had evacuated the building and had assembled on the ground, the students were advised not to panic in case of any disaster. They were instructed to be with teachers at the time of disaster and follow the instructions given by them. Keeping all the safety measures in mind and carrying them out methodically, the entire building was successfully evacuated within a span of 2 minutes.
It was organized to check the readiness of the school to face any such fire emergency and also to make the students and staff aware about the Fire Fighting rescue operation.