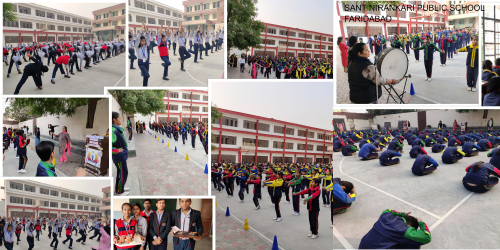 Fit India School Week
As per the guidelines of Central Board of Secondary Education, "Fit India School Week" was celebrated in Sant Nirankari Public School, Sector-16 A, Faridabad from 22nd November to 30th November 2019. Fitness is a very crucial matter as fit children are able to handle day-to-day physical and emotional challenges better.
On Day 01 November 2019, students enthusiastically participated in Yoga Exercises in the morning assembly. They were also informed about the benefits of different yoga by Physical Teacher. Yoga help students fight against diseases and help get rid of weight. The Fitness and Nutritious Activities were observed by involving students of classes 9th and 10th in preparing delicious and nutritious recipes. Through this activity, they learnt that they will be able to learn better when they are well nourished and eating healthy meals has been linked to higher grades, better memory and alertness, and faster information processing.
On Day 02 November 2019, Free Hands Exercise took place in the morning assembly and they were also told that regular physical activity can improve their muscle strength and boost their endurance. Exercise delivers oxygen and nutrients to the tissues and helps cardio-vascular system to work more efficiently. Debate Competition was held for the students of classes 9th to 12th on the topic "Mental Fitness Activities". The students highlighted the importance of mental fitness along with physical fitness. Ms. Sarita, physical education teacher of the school delivered a Lecture about the importance of sports and games for keeping oneself fit and healthy. She quoted "Healthy mind lives in healthy body".
On Day 03 November 2019, Poster Making Competition was organized for students of classes 6th to 8th on the theme" Fit Body-Fit Mind-Fit Environment". Students gave way to their imagination and creativity on the canvas. Their masterpieces were greatly appreciated by all.
On Day 04 November 2019, Physical Activities were held for all students including Dance, Aerobics and Yoga. They learnt that Yoga help students to stay calm and fight mental health issues. Students of classes 4th to 6th participated in Essay Writing Competition on the theme "Fit India School". Students described various methods to remain fit and healthy.
On Day 05 November 2019, Fitness and Sports Quiz was held for the students of classes 2nd and 3rd. The tiny tots used their intelligence and thinking skills for giving answers.
On Day 06 November 2019, The sixth day of the fitness program was taken up as "Ek Bharat- Shreshtha Bharat". Various (Traditional/ Regional games) competitions like Pitthu, Badminton, Basketball etc. were conducted to celebrate the Unity in Diversity of our Nation, to maintain and strengthen the fabric of traditionally existing emotional bonds between the people of our Country. Engagement Matrix between States and UTs have been followed. Our school had chosen (Palli Patti) Pitthu, a traditional game of Telangana State which is Haryana's partner State. The students as well as teachers enjoyed a lot by participating in all these competitions and marked their excellence in different games. The students and the teachers were completely absorbed in the fitness activities and there was a complete fitness atmosphere around the corner throughout the week.
It has also registered on official FIT INDIA PORTAL and uploaded report/pictures/videos. The celebrations has been put on social media with (hashtag) #cbsefitschool. The school got recognition in the form of Digital Certificate after the successful conduct of FIT INDIA SCHOOL WEEK.