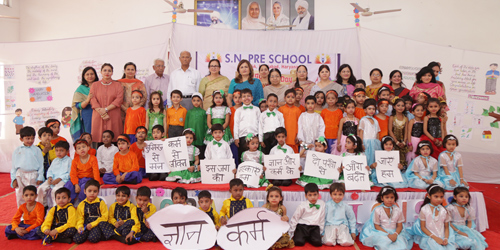 GRADUATION DAY 2018
EVERY YESTERDAY IS A MEMORY OF DREAMS.
EVERY TOMORROW IS A VISION OF HOPE,
WITH GREAT JOY AND SUCCESS.
The S.N. Pre School of Faridabad celebrated its Graduation Day as a significant occasion on Wednesday, 21st March 2018. The occasion was graced by Ms. Raman Singh Manhas (Administrator, Education), Manager of S.N.Pre School, Sh. N.S. Chauhan Ji, LMC members Sh. S.P. Malhotra Ji, Smt. Prabha Malhotra Ji, Smt. Anita Nagpal Ji, Smt. Sunita Minotra Ji, Principal Mrs. Sunita Kharbanda Ji & Headmistress Mrs. Mamta Arora Ji.
Children started the programme with a prayer giving glory to God. The occasion gets illuminated with the skit on Unity in Diversity. Beautiful songs and dances on theme Rhythm of Life was performed by little ones. Everyone was spellbound and really enjoyed the performances.
It was indeed a joyous and memorable day for the little ones as they received their graduation certificates from the guests. They looked stunning in their gowns and caps. It was a proud moment for both teachers and parents.
On behalf of U.K.G. class Vedansh Chaturvedi thanked all the teachers for their love, care, support and guidance.
After that chief guest showered her blessings on the students for their beautiful performances. Three special prizes were also given. Best Student of the year was awarded to Vedansh Chaturvedi, JIya Saini was awarded as best in co-curricular activities and Shubham was awarded as best in academics. While addressing to parents in her speech, the chief guest appreciated the team work of the teachers.
The function concluded with National Anthem. Overall it was a mesmerizing event enjoyed by all.
GRADUATION IS AN EXCITING TIME.
ITS BOTH AN ENDING AND A BEGINNING ;
ITS WARM MEMORIES OF THE PAST
AND BIG DREAMS FOR THE FUTURE.