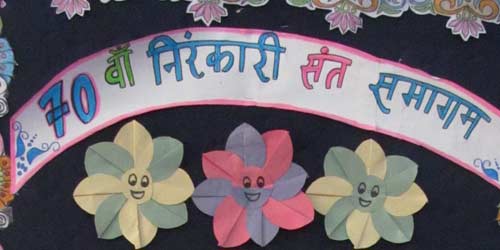 Highlights of 70th Annual Sant Nirankari Samagam
A Special assembly conducted by Prerna house on 24.11.17 on the topic – Highlights of 70th Annual Sant Nirankari Samagam.
Sant Nirankari Public Schools were established to achieve the vision of Sant Nirankari Mandal to provide education to all .We've tried to contribute towards the aim of the Mission ,by conducting a special assembly wherein key highlights of the Annual Nirankari Sant Samagam were showcased to spread the voice to all the students .
Nirankari Sant Samagam reaffirmed the famous dictum, "They serve the best, who serve silently".
Nirankari Samagam plays an integral role in the history of Nirankari Mission. Saints from every nook and corner of the world participate with great zeal and enthusiasm. We can see a lively picture of faith, devotion, humanity, oneness amongst these devotees during these three days. Our teachers and students made a small effort to depict these three days proceedings of Nirankari Samagam within 40 minutes.
The assembly started with an act in which the students depicted the scene of samagam wherein they presented Langar, Exhibition, Publication, Sewadal Rally, Satsang, Kavi Darbar. Students presented Rally in sewadal uniform and imparted the message of Her Holiness Satguru Mata Savinder Hardev Singh Ji Maharaj.
A devotional song was sung by Muskan and Luxmi, students of class X.
Students of IX to XI gave an impressive and spellbounding performance in form of a play.
Aayushi, student of XI was anchor for the event.
Shweta, student of XII recited a poem on the topic "Nirakar ka lai adhaar, jeevan ho gurmat anusaar"
Simran of std XI sang a devotional song.
Students from VIII to X sang a devotional qawali.
Palak of std XII delivered a speech on Samagam wherein she enlightened all.
In the end Our Honourable Principal ma'am showered her blessings and imparted valuable information to the children regarding Nirankari Mission.She explained that this is a Mission for all to follow humanity, oneness without any discrimination of caste, color and creed. She encouraged all the students to be a part of next Samagam, along with their parents to experience the divinity. She appreciated all the acts and exclaimed, "It seems that we are still enjoying samagam."
All the students were spell bound and took along the divine teachings of the Mission.