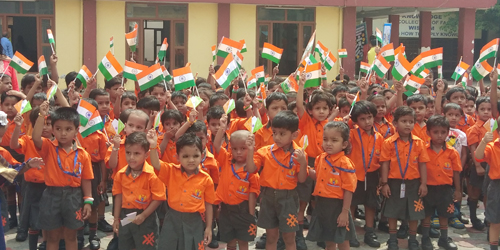 Independence Day Celebrations
Sant Nirankari Public School Sector 16 A Faridabad celebrated the 73rd Independence day of India with full vigour and enthusiasm on 14th August, 2019. The glory of India was showcased through soul stirring performances from students of different classes. Students of class 6th sang 'Shabad Vani'. An inspirational speech was delivered by teacher Ms. Sunaina Ahuja which highlighted the importance of being independent. Students of class 9th sang a patriotic song on the exemplary courage and passion of the heroic nation lovers and salutes their patriotic sentiments. Harsh of class 11th delivered a speech highlighting the importance of Independence Day and the importance of duties which Indians must sincerely perform towards the nation. A devotional poem was recited by Teena of class 10th. A speech on waste management was delivered by teacher Ms. Sonika Choudhary. She told the students about the use of blue and green dustbins.
Blooming buds of classes Nursery and UKG sang a song that added glory to the function. A group dance was performed by students of classes I to IV which thrilled the atmosphere. At the end the Chairman, Mr. Arora showered his blessings on all the students. He also discussed the achievements made by our school in recent times. At last the Chairman Mr. V.K Arora along with the Principal, Ms. Sunita Kharbanda, distributed the prizes that our students achieved in various inter-school competitions.