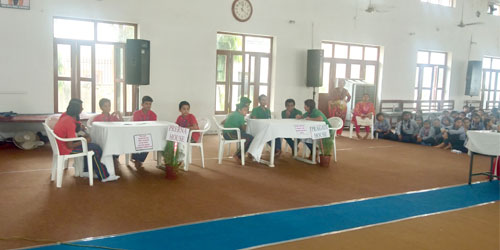 Inter-House Competitions
"Winning is not getting ahead of others it is getting ahead of yourself"
                                                                                                            -Roger Staubach
In order to achieve excellence in various fields, Sant Nirankari Public School, Faridabad organises different competition for the students every month. The inter house competition for the month of July:
Bulletin Board Decoration Competition (for classes IX –XII):
"The world is but a canvas to the imagination", said Henry David Thoreau a great philosopher, writer and observer of nature. To give wings to the imagination of the students, Bulletin board decoration competition was held in the school auditorium on 22nd July on the theme 'Preserve Wildlife'.Each board highlighted the message that peace, stability, human rights and effective governance based on the rule of law are important conduits for sustainable development.
Hand-Writing Competition (for classes I & II):
Hand-writing competition was organised on 30th July. Students expressed their views in very beautiful handwriting. Aditi of class I A of Pragati House got first prize & Puja Debnath of class I B of Preet House stood second. Trishti of class II A of Preet House bagged first prize &Divyansh Rai of class II B got second prize.
Hasya Kavita Competition (for classes III to V):
To encourage students to read and love poetry, HasyaKavita Competition was held at Sant Nirankari Public School, Faridabad on 30thJuly. Inter-House Hasya Kavita Competition saw great enthusiasm and zeal by all the participants and houses. The audience was mesmerized by the jubilant and humorous self-written poems which were a pleasure to listen to. The competition brought cheers on each and every face. It was a pleasure to watch the little ones recite the poems so confidently. They enthralled the judges and the audience alike by their expressions and perfect voice modulation. In this competition, Nandini of class 4th from Preet House stood first, Mayank of class 5th from Pragati House bagged second & Ridhima of class 5th from Prerna House won 3rd prize.
Quiz (for classes VI to VIII):
'If you have knowledge, let others light their candles in it.'
The quest for knowledge, like everything else of value, is not to be obtained easily. It must be worked for, studied for, thought for, and more than that must be prayed for. To encourage the students to widen their knowledge on current affairs the school had organized Inter House Quiz Competition on 30th July in the school auditorium. Five students from each house participated in which first position was won by Pragati House. All the students were delighted to envision the future and a day full of inspiration and learning.