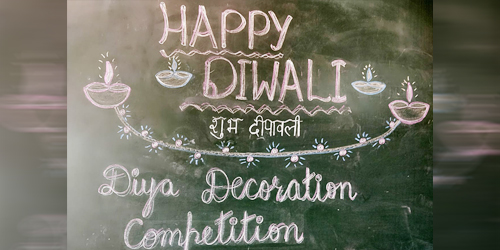 Inter- House Diwali Competitions – 2018
On the eve of Diwali on 6th October 2018 various Inter-House competitions were conducted in Sant Nirankari Public School, Sector- 16 A, Faridabad in which each & every child got chance to indulge.
In Diya Decoration Competition all the students of Classes I & II showed their excellence in which Priyanshi of  I A  and Aayush of I B from Pragati House bagged I and II positions respectively. Yuvika II B from Prakash House secured I position and Bhavesh of IIB from Prerna House got II position. The main objective of this competition was to explore the students' imagination and creativity.
Class III participated in Card Making Competition in which Kritika of III B from Prakash House bagged I prize and Priyanka of III C from Preet House achieved II prize.The students participated keenly and made beautiful cards by the dint of their creativity.
In Bandhanwar Making (Class-IV), Dipanshi IV B from Prakash house secured I position and Mayank IV C from Pragati House got II position. The students let their imagination run wild and made bandhanwars beautifully.
In Pooja Thali Decoration Competition, six students of each house from Classes V & VI participated with zeal. Shiny of Class VI C from Preet House stood I, Geetika Saini of VI B from Prakash House got II and Aayushi Gupta of VI A from Prerna House secured III position. The main aim for the competition was to help the students to exhibit their talent, showing love and pray to God by decorating " Pooja Thali".
 Best out of Waste is one such craft which follows environmental friendly principle and at the same time creates useful and picturesque objects out of waste products. Best out of Waste Competition was held for Classes VII & VIII in which six students from each house participated. Muskan of VII A from Prakash House achieved I position, Bhawna of VIII B & Utsav of VIII C from Preet House bagged II and Ashwani of VIII B from Pragati House stood III in it.
In Mehndi Competition,four participants from each house participated in which Kashish Gandhi of Class IX A from Prerna House bagged I position, Khushi Chauhan of Class IX B from Preet House secured II position and Sakshi of Class IX A from Prakash House got III position. Irrespective of exposure and experience, they adorned their hands with mehndi designs which helped them boost their confidence in the art.
Rangoli Competition for Classes IX –XII was held in the school corridors &eight students from each house participated in which Pragati House stood I, Preet House got II and Prerna House got III position. The entire corridor was decked with beautiful, creative designs by the students.
There was Class Decoration Competition for Classes V-XII in which Class IX A (Class Incharge Ms. Pooja Arya) got I position, Class VII B (Class InchargeMs. Meenakshi Sapra) stood II and Classes X A& V C (Class Incharges Ms. Poonam Gulati and Sonia Sharma) got III position.  All the students were seen much enthusiastic. Students made themselves indulged in whole heartedly and with full zest. The festive spirit of Diwali was witnessed in everyone.
Principal Ms. Sunita Kharbanda encouraged the students and awarded the Ist position holders with certificate of excellence.