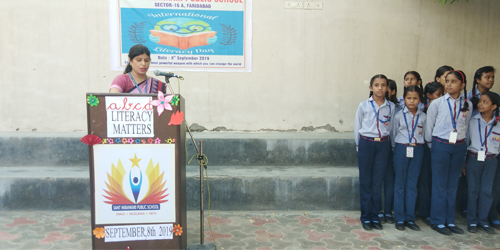 International Literacy Day Celebration
'Literacy is human right and basis of all Knowledge'
Sant Nirankari Public School, Sector-16 A, Faridabad celebrated International Literacy day on 8th September 2019 in the morning assembly. Later various activities took place to give importance to this day. Ms. Parvesh, a teacher of Pragati House highlighted the importance of the day through a brief speech. She elaborated that International Literacy Day was declared by UNESCO on 26th October 1966 but first time celebrated in 1967. She added that the main aim of this day is to highlight the importance of literacy to individuals, communities & societies as well as improvement in the world literacy rates.
"Literacy is the best remedy" to eradicate poverty, lowering the infant mortality rate, controlling the population growth, attaining the gender equality etc.
 The concept of Literacy was defined to the students more elaborately by another teacher, Ms. Durgesh of Pragati House through a story telling session. A student of Class V also gave a speech on the importance of Literacy Day. On this occasion,   Students were encouraged to donate valuable old books so that it can be used by the needy ones. A Literacy Box was kept in the school library for this purpose. The students were encouraged to celebrate this day to highlight significance of literacy.