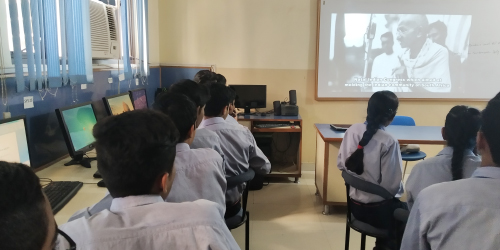 Mahatma Gandhi 150th Birth Anniversary Commemorations
'A man is the product of his thoughts; what he thinks, he becomes.'
Mohandas Karamchand Gandhi -Bapu, the name itself is capable of carrying the whole universe in it. Mahatma Gandhi is revered all over the world as one of history's most transformative and inspirational figures. He was the greatest leader of the world, an unarmed soldier, a fearless warrior and a follower of Ahimsa.
To commemorate the 150th birth anniversary of Mahatma Gandhi-Father of the Nation and to imbibe the values of truth, honesty, simplicity, non-violence and discipline, Sant Nirankari Public School, Sector- 16 A, Faridabad organized a series of events from 23rd September, 2019 to 2nd October, 2019.
On September 23, 2019 Bhajan assembly was conducted by the students of classes VI- VIII with much aplomb and fervor. A beautiful speech was given by a student of class IX about Mahatma Gandhi.
On September 24, 2019  Mono acting activity was conducted by the class teachers of classes III- V in their respective classes conveying the message that why Gandhi Ji chose to follow the path of ahimsa and non violence and that how relevant it is in present scenario as well to resolve conflicts through dialogue and mutual understanding. The best performers were awarded with prizes.
On September 25, 2019  A student of class IX highlighted few incidents from Mahatma Gandhi's life to show that what a great personality he was. He had started many movements from Non Co-operation Movement to Quit India Movement. Cleanliness Drive was held in the class rooms and corridors by the students of classes VI- XII to teach the importance of cleanliness in our life.
On September 26, 2019  Talks on Gandhi ji/ Gandhi Katha Kathan was conducted in the assembly where students of classes IX- XII presented their views on Mahatma Gandhi and his life history. They also discussed his achievements through non- violence method.
On September 27, 2019  Various activities -Slogan writing for classes III-V, Poem writing for classes VI-VIII & Essay writing for classes IX-XII were organized in zero period on the occasion of 150th birth anniversary of Mahatma Gandhi. Best write ups were chosen and awarded.
On September 28, 2019  Painting & Drawing activity for the students of classes III-VIII was conducted where students made sketches and coloured the images of Mahatma Gandhi with great interest.
On September 30, 2019  Screening of films on the life of Mahatma Gandhi for classes I-X Students were shown films on the life of Mahatma Gandhi during computer periods so that they can inspire and learn some more values from the life of great personality.
On October 1, 2019  Quiz Competition was held for the students of classes III- VIII on the life of Bapu. Students marked their excellence here also by showing their in-depth knowledge of the Modern History of India especially the struggle for Independence and various movements led by Gandhi Ji.