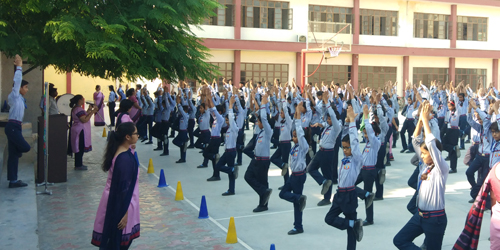 National Sports Day
To commemorate the birth anniversary of hockey legend Major Dhyan Chand, National sports day is celebrated across the country. Stressing the need to stay fit and healthy, this day is observed to spread awareness on the importance of sports and daily activities in every individual's life. So following the instructions of CBSE, Sant Nirankari public school, Sector 16 A, Faridabad conducted various Health/Sports activities in the school campus on 29.08.2019.
During Morning Assembly students were made aware about the importance of sports and physical activities along with introduction of life history of Major Dhyan Chand, Students of classes VI to VIII participated in 4 asanas in standing position those asanas were Trikon asana, Vriksh asana, Hastapad asana, Aradha Chakrasana.
The students of classes VI & VII participated in Aerobics & the III to V classes participated in activities like hurdle race, caterpillar race and Zig Zag race. VIII class students marked their excellence in Ribbon drill. Many outdoor games like basketball, badminton, table tennis, pyramid position by using bicycles were conducted for classes IX to XII.
Students enjoyed a lot and learnt the value and significance of games in life. At 10.a.m. the school arranged live telecast of launch function of "FIT INDIA MOVEMENT" by Prime Minister Mr. Narender Modi wherein he administered fitness pledge also. Students got inspiration from his precious words about health and fitness. Finally, the students took pledge on fitness.