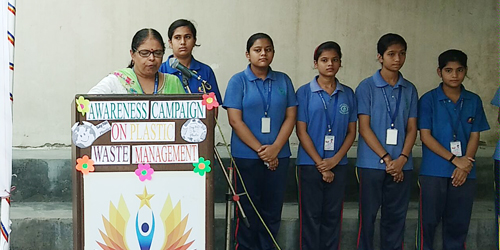 Plastic Waste Management
Sant Nirankari Public School, Sector-16 A, Faridabad organized an awareness campaign to reinforce 'sanitation as everyone's business' and to focus on  'Plastic Waste Management' on 20th September 2019 under Swachhata Hi Seva Campaign launched by the Hon'ble Prime Minister on 11th September 2019.
Ms. Nisha Hoshing, a teacher of Preet House directed the students to limit the use of Single Use Plastic as plastic bags, Plastic cutlery, Styrofoam cups and cutlery, etc. She suggested various alternatives to Single Use Plastic. The logos of Swachhata Hi Sewa depicting messages against 'Single Use Plastic use' were displayed in and around the school premises in order to generate maximum awareness among the masses.
The students actively participated in Shramdaan by collecting plastic waste from and around the school campus. The students were mobilized to dispose the plastic waste in blue bins. They were guided about the correct use of blue and green bins.