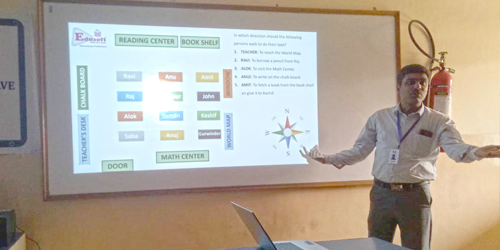 Seminar on Microsoft PowerPoint and Excel
SNPS Faridabad aimed of enhancing the skills of its teachers apart from academics, hence a seminar was organized on Wednesday, 23rd May 2018 from 9:00 a.m. to 1:00 p.m. in the Computer Lab. It was conducted by Mr. David assisted by Ms. Garima and Mr. Alok from EduSoft Pvt. Ltd. of Rohini, New Delhi.
The seminar focused on updating the knowledge of the staff on the ADVANCEMENT OF POWERPOINT AND MS EXCEL. The seminar began with the session on PowerPoint educating the teachers on how to create basic PPT in PowerPoint which was followed by session on MS EXCEL.
There was a small test conducted after these sessions and the teachers who have the correct answers were awarded .Overall it was a great learning experience for all the teachers.