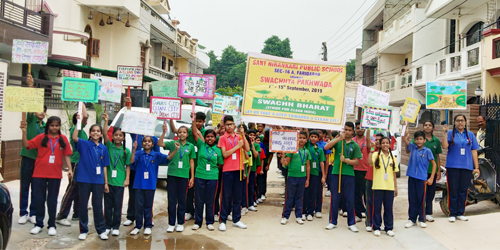 Swachhta Pakhwada
'A clean India would be the best tribute India could pay to Mahatma Gandhi on his 150th birth anniversary in 2019,"   
– Prime Minister Shri Narendra Modi
Recognising the vital role of the schools in spreading the swachhta awareness and implementation across the country, CBSE directed all schools to observe the Swachhta Pakhwada from September 1 to 15, 2019. Sant Nirankari Public School, Sector-16 A, Faridabad enthusiastically organised Shapath day, Letter Writing Day, Speeches, Rally, Tree Plantation Day, Handwash Day, SHS Day, Cleanliness of respective classes (Swachhta Awareness Day) and other activities for the realisation of the programme. The Swachhta Mission was launched on October 2 , 2014 and aims to achieve the vision of clean India by October 2, 2019.
Keeping this mission in mind, all the students of the school were engaged in different activities during the week to celebrate Swachhta Pakhwada. Special Assemblies were arranged in the morning in which the message was inculcated among students through various activities. The programme was initiated with a pledge taking ceremony by the students in order to maintain cleanliness and spread this message around.
 The teachers were directed to sensitise the students in their classes about the importance of cleanliness of the surrounding. Speech Competitions, Letter Writing and posting of awareness messages were the activities performed by the senior students. Even the administrative staff was directed to weed out old files, records and broken furniture. The senior secondary students took the responsibility of sensitising common people around their locality about the cleanliness and hygiene practices. Rally was organised in the nearby area portraying the urgent need to keep the surroundings clean. The students forcefully conveyed that the idea of cleanliness should not only remain on papers and in photographs but should be made a reality. On the concluding day, Prize distribution ceremony was conducted for the winners of letter writing activity, hand wash day and other activities.