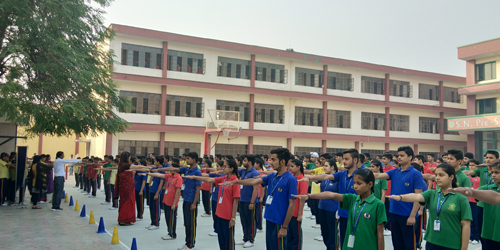 Vigilance Awareness Week 29th October, 2018 to 3rd November, 2018
The Vigilance Awareness Week was observed in Sant Nirankari Public School Sec 16 A, Faridabad from 29th October, 2018 to 3rd November, 2018. Many activities were conducted during this period as per guidelines of CBSE. The theme of the Vigilance Awareness Week was 'Eradicate Corruption-Build a New India'. 965 students and 39 staff- members took Integrity Pledge on 29th October 2018. The school established an Integrity Club in the school on 29th October 2018to ensure that ethical values are ingrained permanently in the minds of students. A seminar cum workshop was conducted in the school premises on the theme of VAW 2018 'Eradicate Corruption-Build a New India' on 2nd November 2018 which was participated by 251 students and 12 teachers. Approximately 965 students and 46 teachers took e-pledge by visiting Central Vigilance Commission's website.
As a part of The Vigilance Awareness Week, 15 teachers and 350 students from VI to X took out a rally on 31st October 2018 spreading awareness about the ill effects of corruption on our country. Other activities like Lectures, Panel Discussions, Quiz, Essay writing, Slogan writing, Elocution competition, Cartoon making, Poster making were held on 3rd November, 2018 to sensitize students and staff members on ill effects of corruption which was participated by 965 students and 41 teachers. Lecture cum Interactive Session was taken by Headmistress Mrs. Mamta Arora of Sant Nirankari Public School, Faridabad on 3rd November 2018 for class X and XII students on ethics and integrity during examinations.