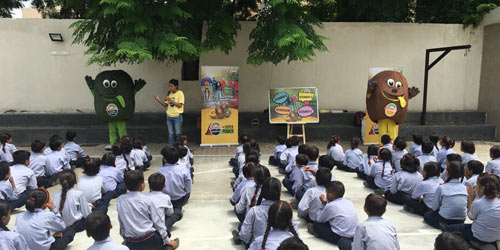 Health Awareness Campaign by Zespri Kiwi Fruit
A healthy diet is a solution to many of our health-care problems. It's the most important solution.
On August 23, 2018 a team from 'Zespri Kiwi fruit' came at Sant Nirankari Public School, Sec 16 A Faridabad, with the purpose of spreading awareness about eating fruits daily. Through some activities they showed both benefits of taking fruit and harms of Junk Food. To maintain their curiosity they used props in the shape of Kiwi .There was a healthy interaction about fruit intake between the team members and the children followed by questions.
They also gifted one munch box with a Kiwi and a short story book describing about Kiwi to appreciate the efforts of children. They encouraged the children to add Kiwi in their daily fruit to fulfill their requirement of essential vitamins like Vitamin – K, E, C and potassium in their body. All the students listened carefully and promised to take fruit daily.