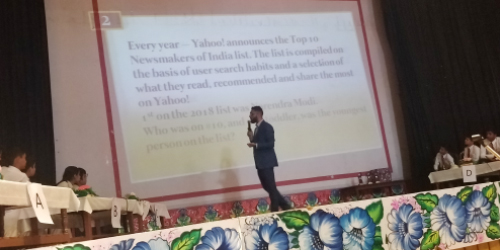 Inter-School Quiz-Competition
An inter-school quiz competition was organized by Blueprint Education titled "Quizcraft" in association with Modern School, Sector -17, Faridabad on 22nd October, 2019. Three students, Namit, Ujjwal and Amaan of Class VIII from Sant Nirankari Public School, Sector- 16 A, Faridabad participated in it. All three of them brilliantly answered the questions in preliminary round and were the first to be selected for the final round. The quiz was conducted by the quizmaster, Mr. Ajay Poonia, who has been hosting an Inter School Quiz Competition series for CBSE schools on History TV18. He has also authored a book on Indian Heritage for CBSE, New Delhi.
Seventeen schools of Faridabad District participated in this quiz .It was held in two rounds: first was the preliminary round in which there were 21 questions all to be answered on paper after which six schools were selected for the final round.
The final rounds was further divided into five oral rounds which included – buzzers, direct and pass rounds, cluetopia, take your pick, and friend unfriend rounds. Every round was a mixed bag with questions from different fields. In the final round though the questions were very tricky, the students tried to answer them skillfully and confidently and very impressively bagged third position for themselves. Later the Principal of Modern School and the Management team of Blueprint Education along with Mr. Ajay Poonia declared results and gave away the trophies and prizes to the first three teams. The audience also got a chance to participate. Every time the teams answered incorrectly and audience too won prizes.
Over all, quiz was very informative and knowledge enriching for the participants as well as for the audience.