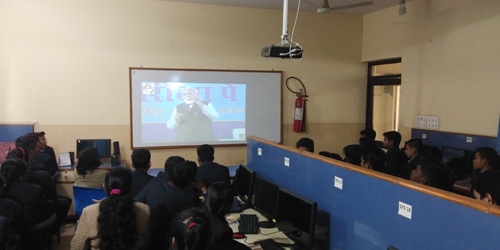 Pariksha Pe Charcha 2.0
Sant Nirankari Public School, Sector-16 A, Faridabad viewed live telecast of 'Pariksha Pe Charcha 2.0' by Indian Prime Minister, Narendra Modi for students appearing in CBSE Board Examination March, 2019 held at Talkatora Stadium, New Delhi on 29 Jan, 2019.
This programme will be of immense help to motivate and inspire students, parents and teachers in view of upcoming board exams.The Prime Minister started the session stating that the class X and XII board exams and for that matter any exam is not the end of the road. " Kuch Khiloney ke tootne se bachpan nahin marta hai (Some broken toys don't mean the end of childhood)", responded the PM to a question on exam stress, quoting a poem by the famous Hindi Poet & Lyricist, Gopaldas Neeraj.
The Prime Minister emphasized that parents should not expect their children to fulfill their own unfulfilled dreams. Every child has his or her own potential and strengths, and it is important to understand these positives of every child, he noted. This year students from across the country, and also Indian students residing abroad, participated in the event.