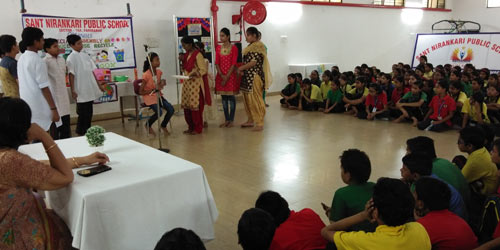 Special Assembly on Reduce, Recycle, Reuse
A special assembly was conducted on 24 August, 2018 in the school auditorium by Preet house (VI to VIII) on the topic Reduce, Recycle, Reuse. The objective of the assembly was to make the students aware of 3R's i.e. reducing waste, recycle the things and reuse them. The assembly commenced with shabad, poem, Skit and song.
The students of middle wing heralded the assembly on the topic reduce, recycle& reuse with lot of joy and enthusiasm. The programme started with shabad 'Man buddhi bhi pahunch na paye, Daya nidhi ki Daya Mahan'. This was followed by a very beautiful poem by Ekta of class VIII.
After the heart touching poem, students of class VI and VII performed a skit. The skit was highly inspiring and motivational showcasing the actual meaning of reduce, recycle and reuse in our daily life and situations as well. Through the skit students gave the message about how we can reduce the production of waste, recycle the things and reuse them for green, clean and healthy environment. A mesmerizing Group song was presented by the students with the lyrics as  "chodo plastic thaili, hum sabne hai thani Apnalo kapde ki koi thaili nai purani, yeh soch sayani".
This was indeed the beautiful ending of the programme. The Principal Mrs. Sunita Kharbanda showered her blessings. She also motivated students to follow the theme '3 R's' Reduce, Recycle and Reuse in daily life as well as spread the message to our near and dear ones.